About Art de Yard

Your craftsman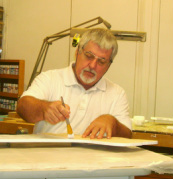 Jerry Falgout
I enjoy working with wood and hand-crafting wood art to help others with shared interests but just don't have either the time, resources, desire or patience to make it for themselves.
All my works are hand-crafted by me and exclusively custom-made-to-order. I work alone, stock no inventory and take as much time as necessary to create works that we'll both be proud. In order to ensure that you get to enjoy your investment for many seasons, I
use only quality exterior
grade materials and paints. Plywood is best quality ACX (exterior grade). For items under 4 ft tall I use 5 ply, 1/2" ACX. For items over 4 ft tall I use 7 ply, 3/4" ACX. All paint and primers are exterior latex (house paint) and applied by brush.
Of course, you can make your own wood art for a fraction of the price that I have to charge to recoup my cost of time and materials. If you're willing to invest your own time and you have both the patience and resources, you can do-it-yourself with easy to use, trace-on patterns that you can buy direct from
The Winfield Collection
. Or, you can just finish a
paint-ready project
that I'll be happy to trace and cut out for you.
All my photos you'll see here are original (not retouched) photos of actual works I've done.
I maintain my own site. This is and always will be a work in progress, so check back often for new content.
THANK YOU!
---